Physiotherapy
One on One Physiotherapy by Highly Experienced Therapists
"Physiotherapy is the primary health care profession that promotes wellness, mobility, and independent function. Physiotherapists have advanced understanding of how the body moves, what keeps it from moving well, and how to restore mobility." The Malaysian Physiotherapy Association
Why Choose Axis Physiotherapy?
First, we ensure your expectations are met. From assessment to treatment, booking to billing, and intake to discharge, your experience with Axis is our top priority — we guarantee it.
Our exceptional physiotherapists are preferred providers for the local medical community, and are therapists to many physicians and surgeons in the area. We have high levels of physiotherapy credentialing, participating in leading country games events. Our treatment protocols are based on the latest research, and are consistently modified so we can continue providing the best outcomes to our patients.
Axis Physiotherapy is a patient-first environment, focused on exceptional customer care and speedy recovery. We're here to help you get better, faster.
The art is in finding the root cause.
Too often, physiotherapy clinics focus on the symptom rather than the cause. But tennis elbow can start in your neck and your leg pain may actually be coming from your back. By finding and treating the cause of your pain we'll help you get better faster – and give you long-term solutions to stay that way.
How does physiotherapy work?
Most people feel better when they really understand their condition. That's why we start with a thorough history of your injury, illness, or disability. Then you'll go through a comprehensive physical evaluation and start treatment right at your first visit.
Treatment is designed to give you strategies to get rid of your symptoms quickly and easily. Depending on your specific issue, treatment may include a simple exercise program, manual hands-on therapy, the use of other techniques, and education about your injury.
Everyone is unique, which is why we'll reassess your condition regularly and making any needed changes to your treatment plan. when you've finished with us you'll have what you need to stay healthy and prevent future re-injury.
What can physiotherapy treat?
Conditions include, but are not limited to: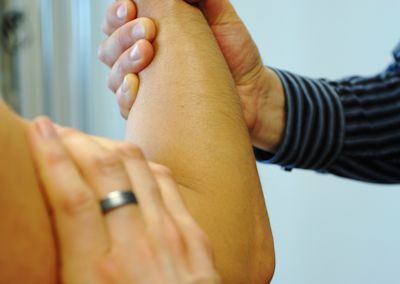 Low Back Pain

Tendonitis

Post Surgery

Headaches

Osteoarthritis

Sports Injuries

Sprains and Strains

Frozen Shoulder

Tennis/Golfer's Elbow

Heel and Foot Pain

TMJ Dysfunction (jaw pain)

Repetitive Strain

Sciatica

Rotator Cuff Injury

…ask what else we can you help with!
Your time is our top priority.
Life doesn't stop for injury. Our therapists know your time is valuable. Our goal is to get you back to normal as quickly as possible with a personalized program that suits your needs and fits your schedule.