Sports Massage Therapy in Axis Physiotherapy
Why Axis for sports massage therapy?
As a rehabilitation centre, our physiotherapists primarily treat people who are looking for specific treatment that involves special massage services such as trigger point massage, sports massage and deep tissue massage. Our clients typically have an injury or areas of pain, muscle tension or spasm, so our treatments don't just help you feel better, but actually help you get and stay better while you benefit from our team approach, with a more precise and faster recovery process.
What is sports massage therapy?
Massage therapy is a hands-on treatment that involves manipulation of the soft tissue structures of the body (muscle, skin and connective tissue, tendons, ligaments, and membranes) to prevent and alleviate pain, discomfort and muscle spasm. Massage therapy also promotes health and wellness. It improves the functioning of the circulatory, muscular, skeletal, and nervous systems, and helps increase recovery from injury and illness.
What are the benefits of sports massage therapy?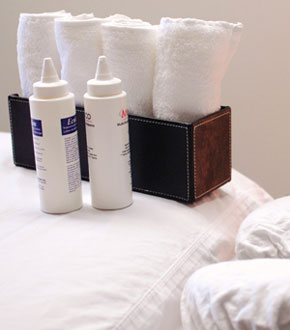 Health:
Post injury and post operative rehabilitation
Provides relief from pain
Strengthens the immune system
Relieves stress and promotes relaxation
Reduces muscle spasms, tension, and stiffness
Helps to relieve tension related headaches
Enhances circulation and skin health
Athletic:
Provides greater joint flexibility and range of motion
Promotes deeper and easier breathing
Improves circulation and posture
Helps heal strained muscles and sprained ligaments